From the October, 1950 edition of the National 4-H News.
A MOMENTOUS day in the history of the United Nations Flag was Thursday, September 7 when the blue and white standard was officially presented to the President of the United States (Harry S Truman) in an impressive ceremony. Two 4-H girls made the presentation: Mary Ann Long, 19, of Shelby, Va. and Charlotte Ingram, 15, of Ellendale, Dela. Each was chosen for her outstanding all-around club work, especially in service to her community. Mary Ann attended National 4-H Club Camp as one of the 2 Virginia Representatives, while Charlotte was one of 4 clubsters of her State chosen to attend the Third Regional Negro 4-H Club Camp at Petersburg, Va. AS PART of the ceremony the girls repeated the special pledge of allegiance to the United Nations. As tentatively adopted it is:

As a loyal 4-H citizan of the United States, I pledge my full support to the United Nations, the one great hope for a peaceful world with freedom and safety for all. Gertrude L. Warren of the Federal Extension office arranged the program, and said the girls were beautiful and that they repeated the plege inspiringly. There to share in the ceremony were some 60 members of the National Citizens Committee for United Nations Day, headed by Mrs. Eleanor Roosevelt, together with many top Extension service workers.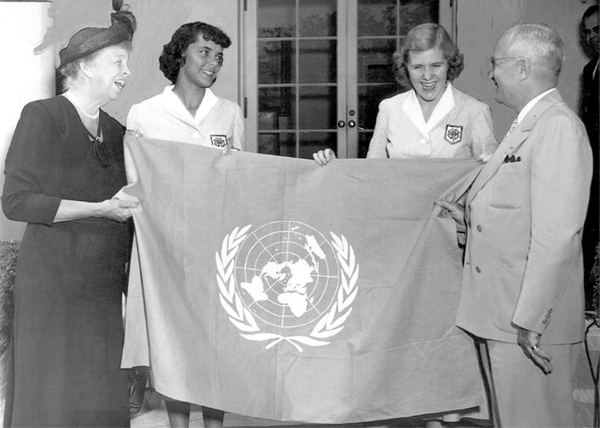 ---
Charlotte D. (Ingram) Jackson, age 77, departed this life Tuesday, February 28, 2012, in Manor Care Rehabilitation & Nursing Center. Mother of Colette Hayman, Sherman Jackson, Jr., and David Jackson; daughter of the late Leonzo and Gladys Ingram; sister of Jenny Ingram, Gladys Rivera, Sylvia Norwood and the late Thelma and Leonzo Ingram. She is also survived by 14 grandchildren, 29 great grandchildren and a host of nieces, nephews and cousins. Ms. Jackson was a member of Mt. Zion A.M.E. Church as a child. Funeral 10 am Saturday, March 3, at Mt. Zion A.M.E. Church, 18211 Beach Highway, Ellendale, DE 19941; viewing 9-9:45 am only. Burial, Mt. Zion A.M.E. Church Cemetery. Official Obituary