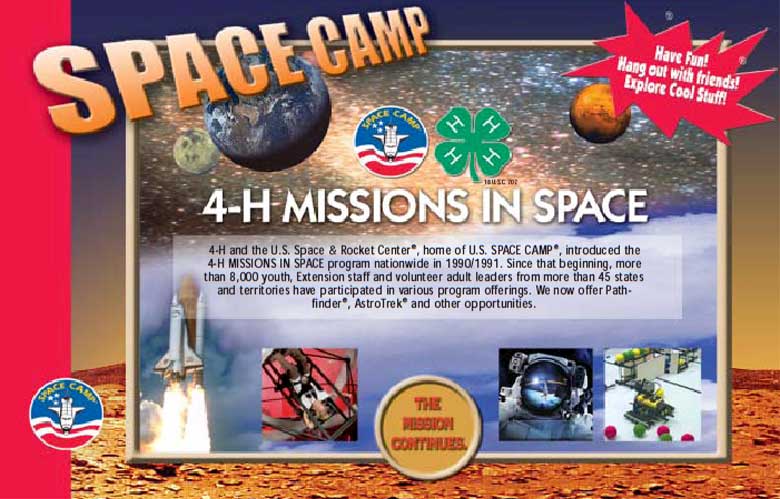 4-H and the U.S. Space & Rocket Center, home of the U.S. Space Camp, introduced the 4-H Missions in Space program nationwide in 1990/1991. Since that beginning, more than 15,000 youth, extension staff and volunteer adult leaders from more than 45 states and territories have participated in various program offerings.
Located in Huntsville, Alabama, the Space Center includes Spacedome Theater, Rocket Park, and the Education Training Center. The experiences at the U.S. Space & Rocket Center offer a complete hands-on learning atmosphere that often make the participants feel like they are worlds away from its Huntsville location.
Every year the U.S. Space & Rocket Center offers a special 4-H Day at Space Camp which includes guided museum tours, the Von Braun exhibit, experiencing public museum simulators, presentations in Discovery Theater, the IMAX movie, visiting Shuttle Park and Rocket Park.
4-H groups can also experience Pathfinder, a weekend of nonstop activities exploring the history, present, and future of manned space flight. Participants are immersed in hands-on training for a space shuttle mission, experience both shuttle and space station simulators. Presentations are packed with interesting facts and trivia that participants remember long after the weekend is over. The Pathfinder program includes the IMAX experience and astronaut training simulators. All those who attend the Space Camp simulator training wear space suits to get the feel of it. They are taken to simulators to learn how to fly spacecrafts like the shuttle. They go for a ride in a centrifuge to feel the pressure of gravity. And they experience the feeling of weightlessness in the zero gravity simulations. They even have a contraption designed to give them the experience of walking on the moon.
Contemporary History
To learn more about 4-H groups visiting the Space Camp in Huntsville, visit the website: http://www.aces.edu/dept/4Haero/